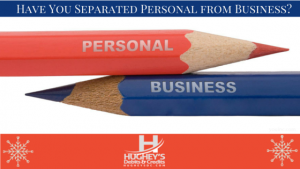 As an entrepreneur, you want to enjoy the flexibility of being your own boss and the unlimited possibilities of revenue.  You feel like you can conquer the world to make your dreams come true!  As finance professionals, and fellow entrepreneurs, we know it's a leap of faith to start a business.  We share your entrepreneurial spirit, and want to see our business and NonProfit clients succeed.
We're often asked for advice from business owners and we always suggest:
Setup good accounting practices to help you avoid pitfalls that startup companies sometimes struggle with.    
We sometimes hear, "I can't afford to hire an accountant/bookkeeper."  You may not be ready at this stage of your business to outsource your accounting, but YOU can set the proper foundation to get your small business finances in order.
If you can do just ONE thing today:
"Separate business from personal"
By separating your business income and expenses from your personal ones, it allows you to see a better picture of how your business is doing. Plus your accountant will love you during tax season, which will save you money!
Opening a separate bank account is a great way to begin. Most banks only require minimum opening deposit of $50 with options to waive the monthly fee with debit card transactions. Also keep your business receipts in a different location than your personal ones. Your future accountant will love you for it!
Want to start 2016 off right?  Begin by starting with this one step and you will be well on your way to being an organized business owner! Organize your expenses and talk to us early in tax season. If you feel like you don't have enough time in your day to deal with receipts and accounting, we can help. Call us to get started.
Ronda & Cortez Hughey