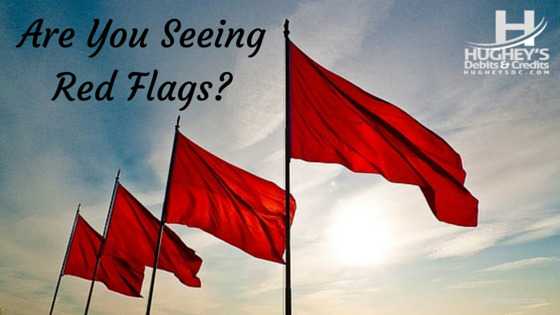 Not everyone can be a financial expert, but board members should be inquisitive and keep an eye on these three areas to spot red flags:
Dip in Cash Flow – Is this normal? Is this unexpected?

Financial reports with unfavorable variances and deficits

Increasing liabilities – Is this a trend or pattern?  Why are debts ballooning?
According to Kate Barr, the Executive Director of the Nonprofit Assistance Fund, "Boards pay too much attention to income statements and budgets, both short-term information, and not enough attention to the long-term perspective of balance sheets. Yellow flags are on the income statement. Red flags are on the balance sheet."
Specific questions board members should ask:
Is our financial plan consistent with our strategic plan?

Is our cash flow projected to be adequate?

Do we have sufficient reserves?

Are any specific expense areas rising faster than their sources of income?

Are we regularly comparing our financial activity with what we have budgeted?

Are our expenses appropriate?

Do we have the appropriate checks and balances to prevent errors, fraud, and abuse?

Are we meeting guidelines and requirements set by our funders?
Questions provided by The Bridgespan Group
In our experience working with NonProfits, the board is tasked with governing but is often far removed from everyday operations.  How do board members know if reporting requirements are filed on time and bookkeeping is managed correctly?  
If you are a board member and would like to inquire about help with your fiduciary duty, let's talk.
If you are an Executive Director, and want to improve financial training and communications with your board and staff members, we offer specialized services so you can enjoy impeccable financial credibility with board members and donors.
Ronda and Cortez Hughey
901.451.4240