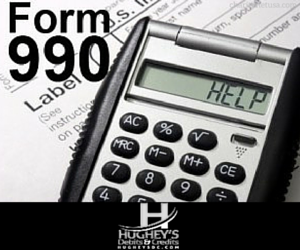 You did it! You've sent out your W-2s to employees and ready to relax, right? Not so fast! Have you completed Form 990? Not sure what that is? Keep reading.
Form 990 "Do I have to do this?"
Yes! Even though you aren't required to file income tax returns, the IRS still wants to know about your organization. Form 990 gives the IRS access to information about your organization's revenue and expenses, including program versus administrative expenses. All nonprofit organizations are required to submit a version of Form 990. It is also important to know that the year listed on the top right corner is the year that your fiscal year began not ended. For example, if you are reporting for July 1, 2014 – June 30, 2015, the Form 990 will say 2014. This is because the timeframe you are reporting begins in 2014.
Which version of Form 990 do I file?
There are four versions of Form 990. Determining which version to submit can be tricky. Here's a cheatsheet of how to determine which you will need to file:
Form 990-N is for revenue of less than $50,000.
Form E-Z (possibly Form 990) is for revenue of less than $200,000 AND assets less than $500,000
Form 990 is for revenue of more than $200,000 OR assets greater than $500,000
Form 990-PF is for private foundations regardless of revenue or assets.
When is it due?
Every year, this form has to be completed within five months and fifteen days of the close of your fiscal year. For example, if your fiscal year ends September 30th, the filing deadline would be February 15th. If you have a different fiscal year end date other than September 30th, click here to see when yours is due!
What if your deadline is near and you aren't ready to file Form 990? No problem! The IRS allows you to request a 3 month extension with no explanation and it will be approved automatically! If you still need more time, you could request an additional 3 month extension but this time, you will have to provide a reasonable cause.
New Change: Starting with fiscal year ending in 2016, instead of filing two 3 month extensions, you will only be able to request one 6 month extension with no explanation that will be approved automatically!
Need help sorting this out?
We can give you an assessment to discuss your options and guide you through the process. Contact us HERE to get started.
Ronda and Cortez Hughey